At the beginning of this year I made a post regarding Animax that ended up, I'll admit, kicking up quite a bit of fuss – at the very least more than I was expecting. Several people, some of whom run blogs themselves, took the oppurtunity to express their general dissatisfaction with the service that Animax was providing to its subscribers.
Of course, it didn't stop there, as some of the busier forums managed to get hold of the story and it ended up taking on a life of its own. I should mention that kicking up a fuss was never quite my intention, but now that's all in the past.
So now, eight months down the line, I decided to take another look at Animax and see what had developed since that last post.
The following information reached me shortly after making the post: Animax SA was actually going through a trial period of 6 months which only allowed them to add two additional series to the channel every month, and they were very limited in what they could do with their programming.
So it appears that Animax has managed to get through their trial period, and they have since added a number of new programs to their line-up, including Neon Genesis Evangelion, Angelic Layer, Black Cat and Elfen Lied, to name but a few.
So has Animax managed to live up to its promise? The answer to that is: Well … no. Not quite.
You see, the problem lies in the fact that despite nearly running for a year, the programming on Animax remains almost exactly the same as it did 9 months ago (Animax started airing in November last year) – and to be dead honest, if I have to see one more repeat of Samurai 7, I'm probably going to be running around with a katana myself, slashing at random people.
The Animax SA site doesn't do much to inspire confidence either – while the schedule on site does get updated, the remainder leaves a lot to be desired. The About Animax page, for examples, has since the launch featured nothing but what you can see in the screenshot below: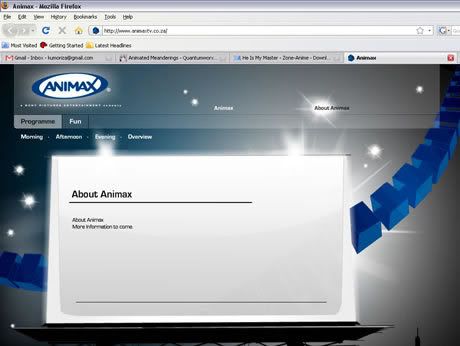 I'm not quite sure what the Fun tab is supposed to do, apart from annoy users bacause it actually does nothing at all. Furthermore, no other details, contact information or anything else is included on the site. If you compare the site to, for instance, the Animax Hong Kong site, you can see that it leaves a hell of a lot to be desired. In short, it just shows a general lack of commitment.
Based on this, we can see that Animax SA still has a very long way to go. It's off to a decent start (several complaints notwithstanding), but I think the fans will be demanding more, and it's up to them to deliver.