From one anime concerning a girl reaching for her dream, and on to the next – this time we're taking a look at Kaleido Star. Kaleido Star follows the exploits of Naegino Sora, who comes to America from Japan in order to fulfill her dream of performing on the Kaleido Stage.
Sora's quest gets off to a rocky start. Soon after arriving she has her bag stolen, but manages to stop the thief using her acrobatic skills. However, she arrives at the Kaleido Stage too late
to take part in the audition – although intervention by the owner, Kalos, allows Sora the unprecendented chance to perform in place of an injured performer. Of course, things don't go well, and Sora prepares to return to Japan, but Kalos convinces Layla Hamilton, the stage's top performer, to let her stay – promising her that Sora's performances may one day be the Stage's main draw.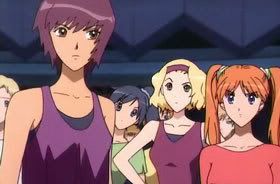 Sora spends her first few days at Kaleido Stage as an outcast, with most of the performers believing that she has some sort of relationship with the owner to get her position, with Layla in particular displaying a cold attitude towards her. However, Sora's sheer grit and determination soon manages to win over Mia and Ana, as well as young stage manager Ken Robbins (who appeared to be stricken with a case of love at first sight) – and she soon starts to earn the respect of the rest of the stage members as well.
Given the format and story of Kaleido Star, you may quickly see why I recommended it if you had enjoyed Full Moon, reviewed previously. Once again the main character has to struggle against immense odds in order to reach her dream – there are actually a lot of similarities between Sora and Mitsuki. Sora as a character is also one of those irrepressible spirits, willing to work as hard as needed to reach her goals. She is also a very open-hearted and trusting person – and wishes more than anything to avoid conflict on the stage.
The show received a lot of bonus points with the critics for the high quality of animation used – especially during scenes where the characters perform their routines/stunts. The show itself consists of 52 episodes, broken into two seperate seasons, and I particularly enjoyed the first season – the story maintains a pretty good pace without dragging things out too much, leading up to a stunning climax that literally had me on the edge of my seat.
The second season was nearly as good, although I personally feel that the story lags a little bit, especially through the middle of the season. The introduction of some new characters livens things up a bit, although the producers did perhaps a little too much to make some of them as unlikeable as possible – although the new female character has a few good points and provides some comedy. The pace picks up again towards the end of the season, once again leading up to an epic climax, which is, if anything, better than the first season's, effectively removing the draggy feeling imposed during the earlier slow start.
In similar fashion to Full Moon, Kaleido Star also features a supernatural presence, in the shape of the slightly perverted stage spirit, Fool. Sora is initially the only character that can see him, and he takes on the role of providing Sora with some guidance on her quest, and also tries his best to peek on her while she's changing or in the bath.
Produced by Gonzo, the show ran from April 2003 to March 2004, and gave birth to a spin-off manga, Kaleido Star ~Wings of the Future~, in which Sora's younger sister, Yume, travels to the Kaleido Stage to join, and hopefully meet her older sister.
As mentioned earlier, Kaleido Star received a lot of positive reviews, especially because of its visual quality, but not detracting from its story at all; one reviewer on Anime Advance said "This is a show that dreams are made of." I can only agree.
Anime News Network users give it a rating of 8.0/10 – and mentions that the production cost of each episode was roughly ¥18 million (about US$ 195,260).
Definitely recommended if you enjoyed Full Moon o Sagashite, although I could probably recommend this show all by myself.